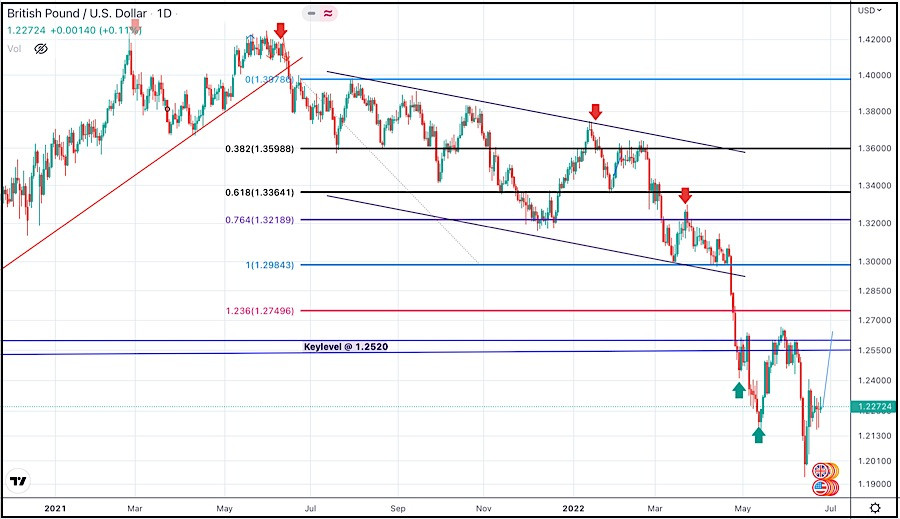 The short-term outlook turned bearish when the market went below 1.3600. This enhanced the bearish side of the market initially towards 1.3360 then 1.3200 which initiated a temporary bullish movement towards 1.3600 for a final re-test.
The price level of 1.3600 corresponding to the upper limit of the ongoing bearish channel initiated an aggressive bearish movement towards 1.2980 - 1.3000.
The price level of 1.3000 stood a transient Support where a short-term consolidation movement existed. This happened just before two successive bearish dips could take place towards 1.2550 and 1.2160.
Considerable bullish rejection was expressed around 1.2200. However, the pair failed to persist above 1.2550. This was needed to abolish the short-term bullish scenario for sometime.
Instead, a quick bullish movement was executed towards 1.2650 where extensive bearish rejection existed.
The GBP/USD pair remained under bearish pressure to challenge the new low around 1.2150 again which was temporarily bypassed.
Immediate bullish rejection brought the pair back above 1.2150 again.
Bullish persistence above 1.2300 will probably enable further bullish continuation towards 1.2550 and probabl 1.2650 where further decisions can be taken.
On the other hand, another bearish visit may be expected to challenge 1.1950 again if sufficient bearish momentum is expressed.
Trading analysis offered by
RobotFX
and
Flex EA
.
Source