The US dollar remains in correction mode and the euro has jumped on the bandwagon. EUR/USD is trading at 1.0231, up 0.88%.
The euro breached the symbolic parity line late on Thursday, the first time that has happened in 20 years. EUR/USD dropped a bit further but has rebounded nicely since then and climbed about 250 points. A better-than-expected US retail sales on Friday provided cheer to the equity markets and risk sentiment has remained strong, pushing the safe-haven dollar lower.
ECB Meeting, Nord Stream Reopening Loom
The ECB meets on Thursday, a highly-anticipated event in which the central bank will raise interest rates for the first time in a decade. The meeting will be live, with the markets still trying to determine if policy makers will opt for a modest 25bp hike or a more substantial 50bp move. With the benchmark rate at -0.50% and inflation continuing to accelerate, the ECB finds itself lagging well behind the inflation curve and additional hikes are expected in the coming months. ECB Governor Lagarde has made a hawkish pivot in recent months, but whether that will translate into a 50bp increase remains uncertain.
Another key event on Thursday is whether the Nord Stream 1 pipeline, which provides Russian natural gas to the European market, will reopen. The pipeline has gone through a 2-week maintenance break, and the gas is supposed to flow, but Moscow has weaponised energy exports previously and could decide to do so yet again. They were reports today that the pipeline will resume activity on Thursday, but a report in the Wall Street Journal quoted EU Budget Commissioner Johannes Hahn as stating that he did not expect Nord Stream 1 to restart on time. If Moscow refuses to turn on the gas tap, the specter of the EU scrambling for gas supplies could unnerve the markets and send the euro lower.
EUR/USD Technical
EUR/USD is testing support resistance at 1.0124. Above, there is resistance at 1.0197
The pair has support at 1.0075 and 0.9965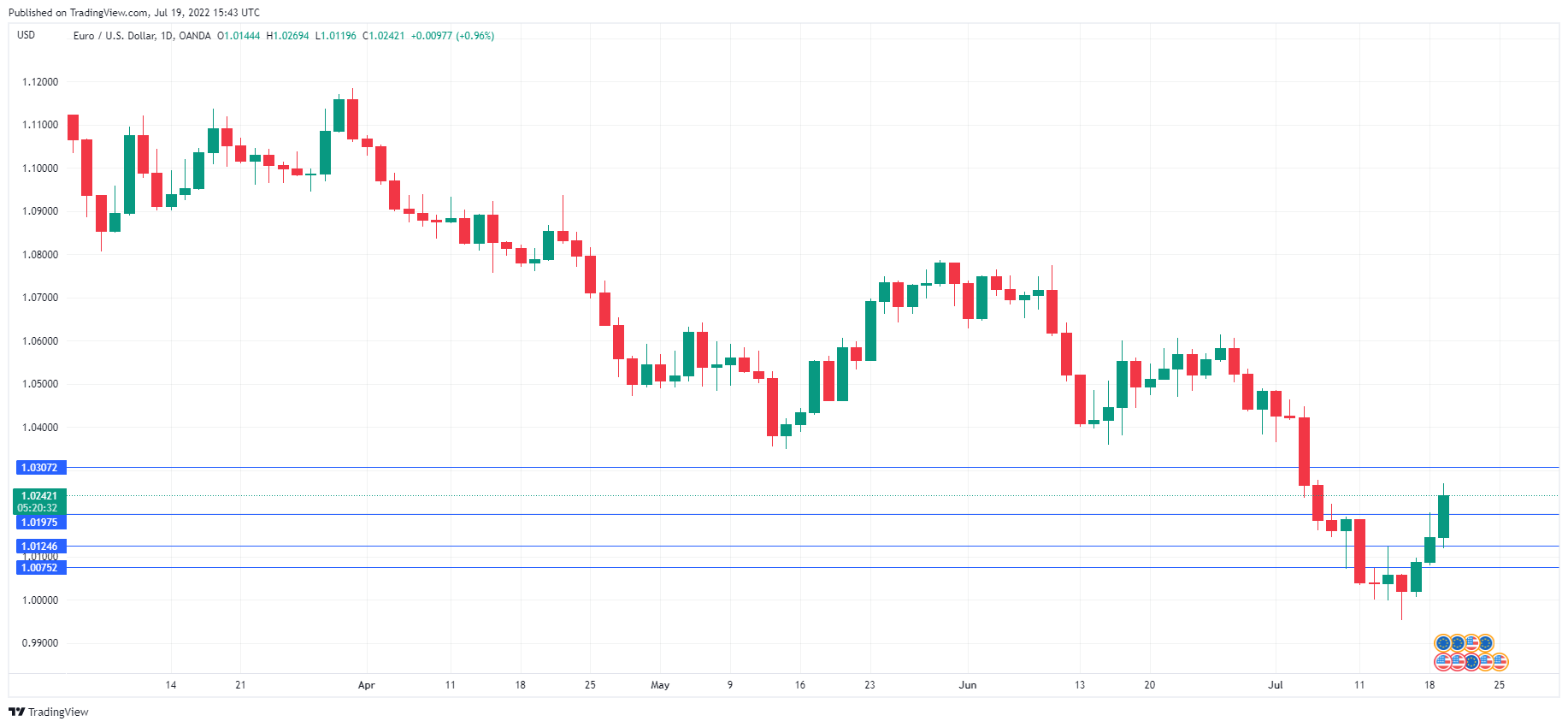 EUR/USD Daily Chart
Trading analysis offered by
RobotFX
and
Flex EA
.
Source