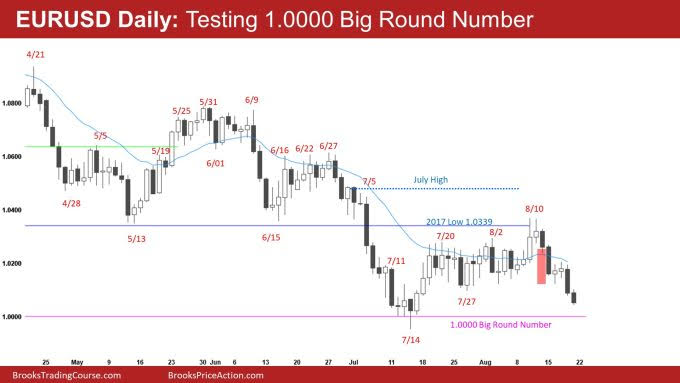 EUR/USD Daily Chart
The EUR/USD is getting a 2nd leg down from the August 15 bear breakout and is within 50 pips of the 1.0000 big round number.
Bulls were happy to buy at this price level and likely will be happy again.
Bears want a strong breakout below the 1.0000 big round number and below the July 14 lows; however, any bear breakout will likely fail and be bought.
Bulls do not mind the market testing back down to the 1.0000 big round number because now they can argue they have a more credible bottom.
The rally up to August 10 was good for the bulls, but it was likely a minor reversal up. The channel down to July 14 was too tight, and the higher low on July 27 was not enough bars for a higher low major trend reversal.
Now, bulls have enough bars for a major trend reversal, but they need to stop the selling pressure.
Bears have three bear bars closing on their close out of the past six bars. And the bulls only have three Doji bars out of the past 6 bars.
Major trend reversals always have something wrong with them. For the bulls, the problem they have is the selling pressure over the past 6 bars is somewhat stronger than they may want.
Most bulls would prefer that the market gets closer to the 1.0000 big round number. If today becomes a strong buy signal bar, the bulls will want it to look perfect (close on high, big body, not too big). If the signal bar does not look great, bulls will question if the market has to get closer to the 1.0000 big round number.
Bears will try their best to make today close near its low, which would slightly increase the odds of another leg down, which would create a wedge.
Overall, the next few days will be interesting to see what the bulls can do. Most likely, the market will disappoint both bulls and bears.
Trading analysis offered by
RobotFX
and
Flex EA
.
Source