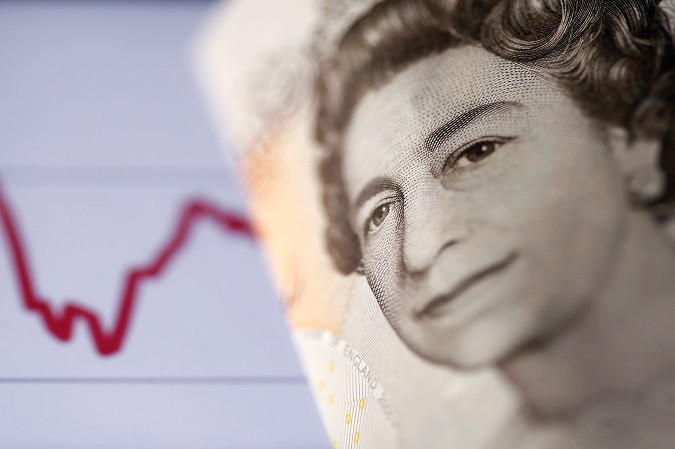 The UK is now facing multiple problems: the cost-of-living crisis, political chaos, and labor strikes. Now, the country's blue-chip index and the only bright spot in the economy, the FTSE 100, is under threat as well.
The index gained about 1.6% since the beginning of 2022, beating a 13% drop for the Euro Stoxx 50 thanks to its big exposure to value segments such as energy, miners, and banks. These segments of the economy have advanced as the economy began to broadly move away from growth.
The FTSE 100 is also under threat from dimming prospects for commodities. The index rose by about 7% from its mid-July low, compared to gains of about 9% for the Euro Stoxx 50, 16% for the S&P 500 and 20% for the Nasdaq 100.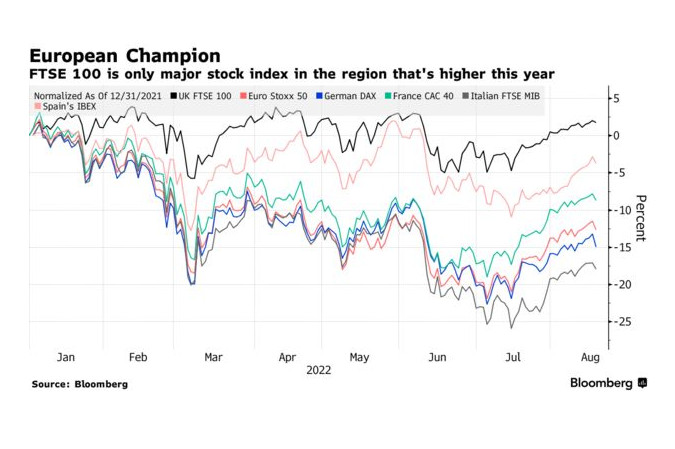 "We are beginning to see institutional interest in UK equities fade," said Daniel Gerard, senior multi asset strategist at State Street Global Markets. Gerard stated that the outlook for energy would likely fall, and that the tailwinds from rates to currency weakness from the first half of 2022 were unlikely to propel the index further.
The latest survey of fund managers by Bank of America Corp. shows a similar trend. Even though the UK stock market is the market of choice for European investors, allocation to British stocks among global fund managers dropped to a net 15% underweight in August from 4% in July.
For comparison, investors in the eurozone are a net 34% underweight. At the same time, fund managers have a net 10% overweight for US stocks.
Even though the index is still considered to be "attractively valued" Alan Dobbie, co-manager of the Rathbone Income Fund, said he sees a "clear market consensus expecting central banks to be forced into a pivot away from their aggressive tightening programmes." As a result, investors could shift to more longer-duration growth sectors such as technology. The FTSE 100 has very few such companies.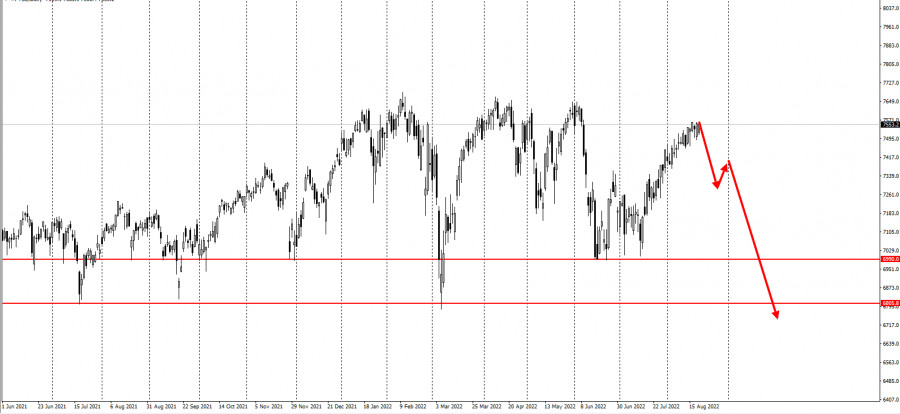 On the other hand, the UK market still enjoys support from several positive fundamental factors: market participants get more than two-thirds of sales from outside the UK. This shields them from the country's economic and political headwinds.
"Companies that are not exposed to the domestic UK economy – that have global presence – are good places to hide out from the storm," Swetha Ramachandran, an equities investment manager at GAM, said.
The UK's domestic stocks remain under pressure, however. The FTSE 250, the UK's midcap stocks index, could lose 14% in 2022. The weaker pound has added to surging costs, while spiraling inflation has fueled concerns that consumers will limit spending.
"While so far earnings have held up better than expected, the market is concerned this will get a lot worse," Tineke Frikkee, head of UK research at Waverton Investment Management, noted.
Trading analysis offered by
RobotFX
and
Flex EA
.
Source