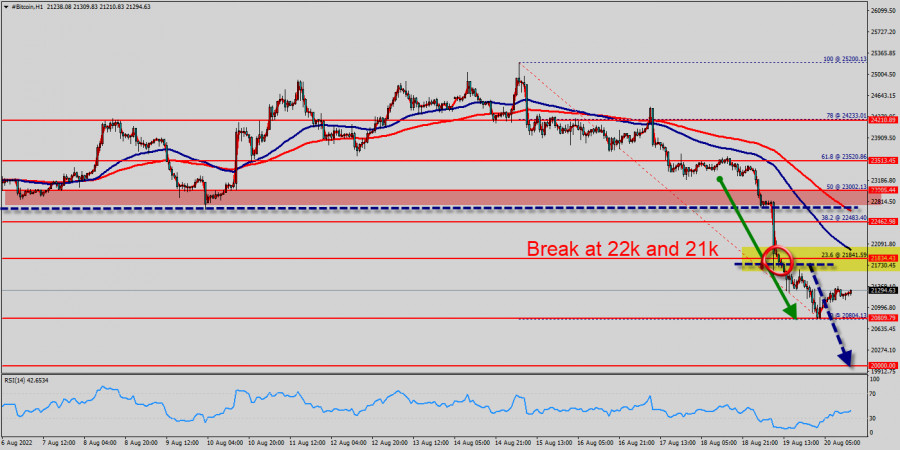 Trading Cryptocurrency BTC/USD (Bitcoin) :
Bitcoin price prediction :
Remember that Cryptocurrencies are the new money! so, Bitcoin is really a great fortune. Hence, our target $30,000 in the next few weeks.
Today, BTC/USD is trading below the weekly pivot point $22 k. Because BTC/USD broke support which turned to a minor resistance at the price of $22,462 last week in 2022.
The price of $22,462 is expected to act as major resistance in the first week of August 2022. As long as there is no daily close below $22,462, there are no chances of a fresh increase below $22,462 (R1) in the H1 time frame.
The support levels will be placed at the prices of $20,804 and $20,000. As long as there is no daily close below $22,462, there are chances of breaking the bottom of $20,804.
The volatility is very high for that the BTC/USD is still moving between $22,462 and $20,000 in coming hours.
As a result, the market is likely to show signs of a bullish trend again. Hence, it will be good to sell below the level of $22,462 with the first target at $20,804 and further to $20,000 in order to test the weekly last bearish wave.
However, if the BTC/USD is able to break out the daily resistance at $22,462, the market will decline further to $30,000 to approach resistance 3 in coming days.
Daily Forecast :
Pivot Point : $22,462.
As we know that :
1 BTC ---> $21,260 approximately.
1 ETH ---> $1,627 approximately.
It follows that : 1 ETH ---> 0,0765286923800564 BTC.
Thereby, one Ethereum is only worth 0,0765286923800564 Bitcoin (August 20, 2022).
Forecast :
According to the previous events the price is expected to remain between $22,462 and $20,00 levels. Sell-deals are recommended below $22,462 with the first target seen at $21,000. The movement is likely to resume to the point $ $20,804 and further to the point $20,000. Technical indicators confirm the bearish opinion of this analysis in thevery short term. However, be careful of excessive bearish movements. It is appropriate to continue watching any excessive bearish movements or scanner detections which might lead to a small bullish correction.
Trading analysis offered by
RobotFX
and
Flex EA
.
Source