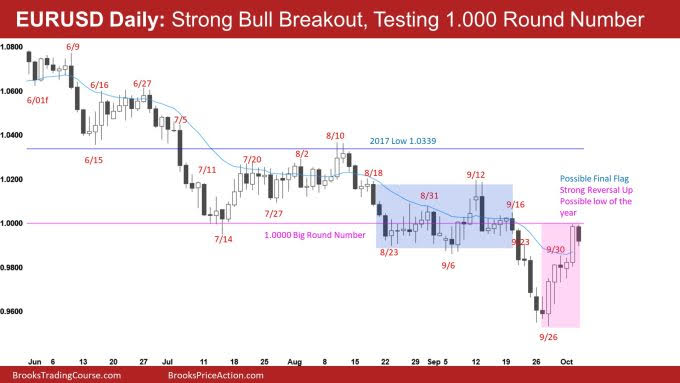 EUR/USD Daily Chart
EUR/USD bulls have gotten a strong reversal back to the 1.000 big round number.
So far, this is good for the bulls, and the odds favor a second leg up and test of the September high.
While the market is probably Always in long, it is possible that this is just a buy vacuum test of the most recent trading range, which is the final flag (blue box), and the market will go sideways here.
At the moment, the odds favor higher prices, meaning the bulls will buy, and buy lower.
Bears see this as a buy vacuum test of the September 20 high. They want the market to stall here and get a second entry short in the form of a micro double top.
Bulls were able to close the breakout gap below the September 6 low. The gap closing increases the odds of the selloff to the September low being exhaustion. This means the minimum target for the bulls is the September 20 high.
Overall, traders should expect the first reversal down to fail and the market to get a second leg up.
Trading analysis offered by
Flex EA
.
Source