Analysis of Friday's deals: 30M chart of the EUR/USD pair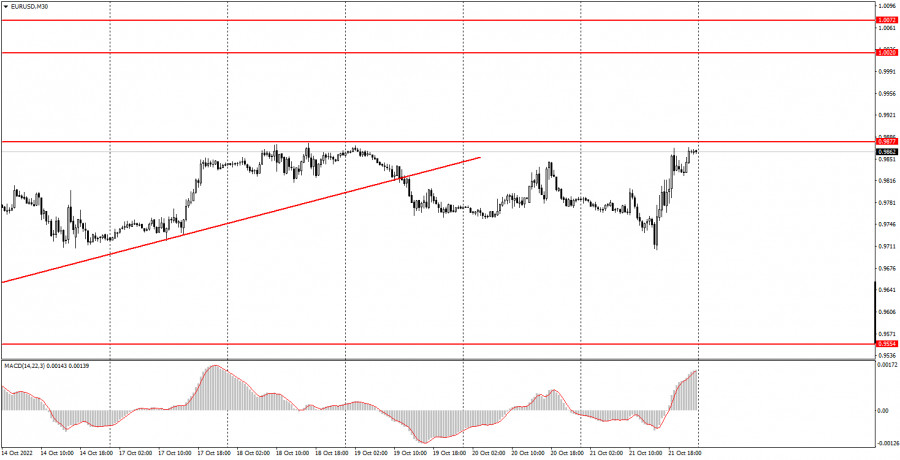 On Friday, the EUR/USD currency pair continued to trade downwards after settling below the rising trend line. However, during the US trading session, there was again a surge of emotions in the foreign exchange market and the dollar began to fall sharply. Moreover, it did this for no apparent reason, since we did not expect any important macroeconomic statistics or events at this time. Thus, the dollar simply fell by 160 points in a few hours. We remind you that the market can trade actively even without macroeconomics and "fundamentals". If we don't receive any, this does not mean that the pair will stand in one place all day. And on such days we trade based on technique. Recently, the euro/dollar continues to move in a manner that is not entirely adequate. On the one hand, it seems to be trying to start forming a new upward trend, but on the other hand, it does so in a sluggish manner, with constant pullbacks and corrections, short-term trends end very quickly and resume in a couple of days. Therefore, the entire current movement when switching to higher time frames looks more like a "swing". For example, if you connect the first low of the last trend line with Friday's low, then we will get a new trend line, but it will be almost horizontal.
5M chart of the EUR/USD pair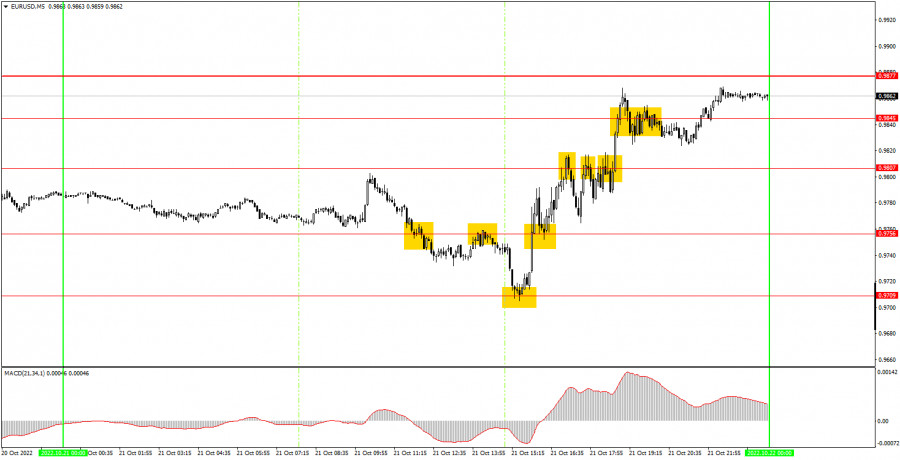 There were no problems with trading signals on the 5-minute timeframe, a huge number of them formed. It all started in the middle of the European session, when the price overcame the level of 0.9756. Subsequently, it managed to drop to the level of 0.9709, from which it rebounded ideally in terms of accuracy. Therefore, a short position should have been closed at this moment and long positions should have been opened. Profit was 20 points. Further, the price overcame the level of 0.9756 and rebounded from 0.9807. This was a signal to sell, so we exit the longs, take profit of 60 points and go into shorts. The signal to sell turned out to be false, since the price did not reach the level of 0.9756, so the position was closed at Stop Loss at breakeven (15 points down). The next sell signal in the form of the same rebound from 0.9807 also turned out to be false and also closed on Stop Loss at breakeven. All subsequent signals should not have been worked out, since they were formed too late.
How to trade on Monday:
The pair started absolutely inadequate and unpredictable movements on the 30-minute timeframe. It is completely unclear whether it is going to continue moving up, or whether it will trade in a flat. There are still few reasons to expect a strong growth from the euro. For some time we can observe movements in different directions. On the 5-minute TF tomorrow it is recommended to trade at the levels of 0.9636, 0.9709, 0.9756, 0.9807, 0.9845, 0.9877, 0.9952, 1.0020-1.0034. When passing 15 points in the right direction, you should set Stop Loss to breakeven. The European Union and the US will publish only indexes of business activity in the services and manufacturing sectors. Under certain circumstances, a reaction may follow them, but it is unlikely to be strong. Moreover, the pair currently has no problems with movements and their volatility.
Basic rules of the trading system:
1) The signal strength is calculated by the time it took to form the signal (bounce or overcome the level). The less time it took, the stronger the signal.
2) If two or more positions were opened near a certain level based on false signals (which did not trigger Take Profit or the nearest target level), then all subsequent signals from this level should be ignored.
3) In a flat, any pair can form a lot of false signals or not form them at all. But in any case, at the first signs of a flat, it is better to stop trading.
4) Positions are opened in the time period between the beginning of the European session and until the middle of the US one, when all positions must be closed manually.
5) On the 30-minute TF, using signals from the MACD indicator, you can trade only if there is good volatility and a trend, which is confirmed by a trend line or a trend channel.
6) If two levels are located too close to each other (from 5 to 15 points), then they should be considered as an area of support or resistance.
On the chart:
Support and Resistance Levels are the Levels that serve as targets when buying or selling the pair. You can place Take Profit near these levels.
Red lines are the channels or trend lines that display the current trend and show in which direction it is better to trade now.
The MACD indicator (14,22,3) consists of a histogram and a signal line. When they cross, this is a signal to enter the market. It is recommended to use this indicator in combination with trend lines (channels and trend lines).
Important speeches and reports (always contained in the news calendar) can greatly influence the movement of a currency pair. Therefore, during their exit, it is recommended to trade as carefully as possible or exit the market in order to avoid a sharp price reversal against the previous movement.
Beginners on Forex should remember that not every single trade has to be profitable. The development of a clear strategy and money management are the key to success in trading over a long period of time.
Trading analysis offered by
Flex EA
.
Source