The Canadian dollar is trading quietly on Friday. USD/CAD is trading at 1.3337 in the European session, up 0.09%.
RMPI, IPPI Inflation Indicators Next
Inflation was in the spotlight this week, as Canada released the CPI report for October. CPI climbed 6.9% YoY and rose 0.7% MoM, with both readings matching the consensus. However, the Bank of Canada's measures for core inflation rose slightly. The data will do little to help the Bank of Canada in its deliberations ahead of a rate meeting on December 7th. The markets have priced in a 25-bp hike, with a 35% of a larger increase. The BoC has been tightening rates at full speed, raising the benchmark rates by some 350 basis points since March to 3.75%.
Inflation is the BoC's number one priority, but policy makers are on the lookout for an indication that inflation has peaked, which would provide the green light to ease the pace of tightening. Today's inflation releases, the Raw Materials Price Index and Industrial Product Price Index, will be watched closely by the BoC, as will next week's retail sales reports.
The soft US inflation report last week sent the stock markets flying higher, as risk sentiment soared. Investors took the inflation data as an indication that the Fed was close to a pivot in its aggressive monetary policy. The Fed responded with a full court press, with Fed members hitting the airwaves and making hawkish remarks about rates. The latest appearance was from Fed member Bullard, who called on the Fed to raise rates to a minimum of 5.-5.25%. Bullard also presented a hawkish scenario in which the funds rate would not peak until 7%. The Fed offensive has had the desired effect, dampening investors expectations of a U-turn in policy, which would have complicated its efforts to tame inflation. This has helped steady the US dollar, which took a beating after the inflation report.
USD/CAD Technical
USD/CAD faces resistance at 1.3353 and 1.3471
There is support at 1.3218 and 1.3136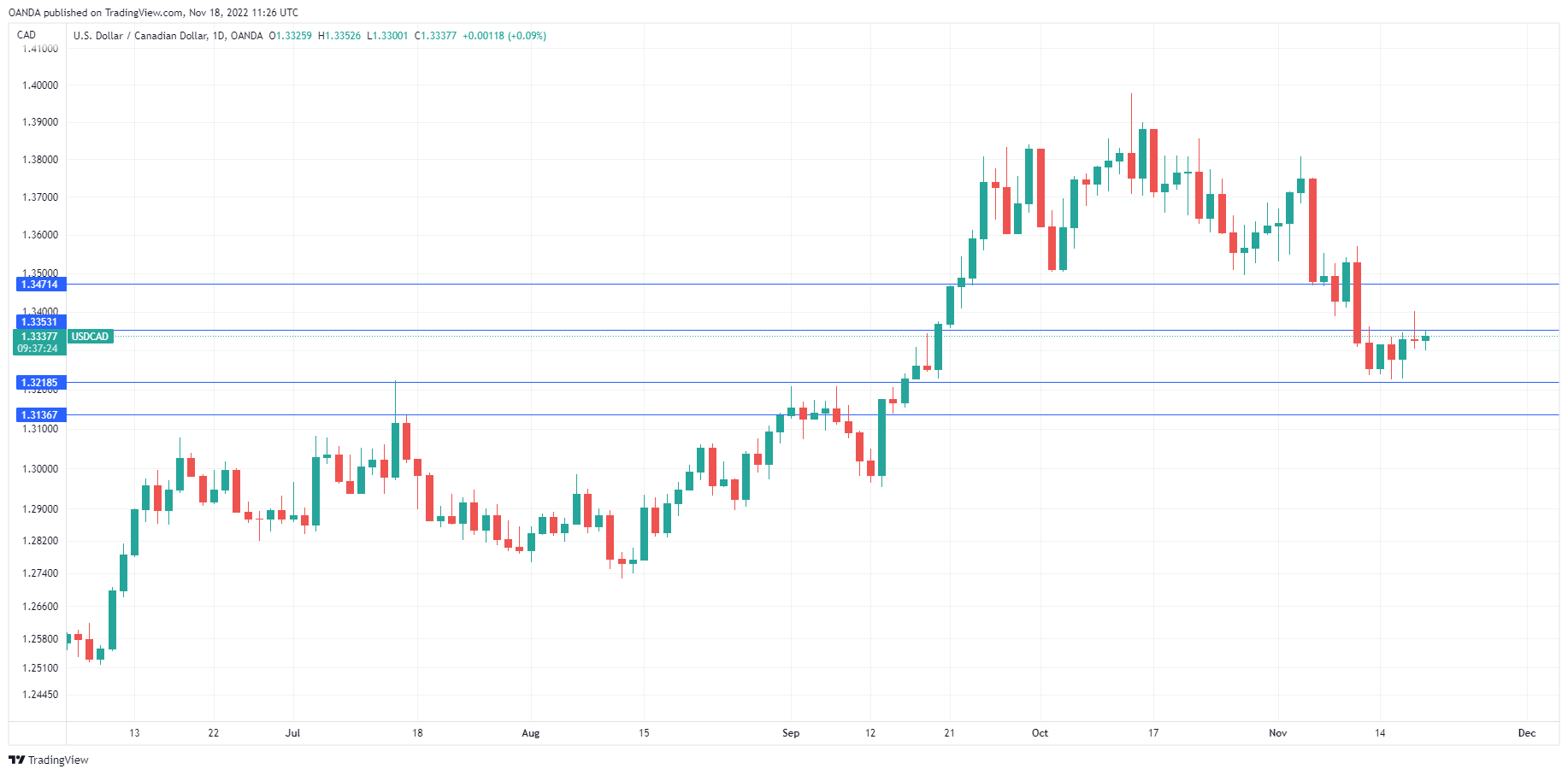 USD/CAD Daily Chart
Trading analysis offered by
Flex EA
.
Source