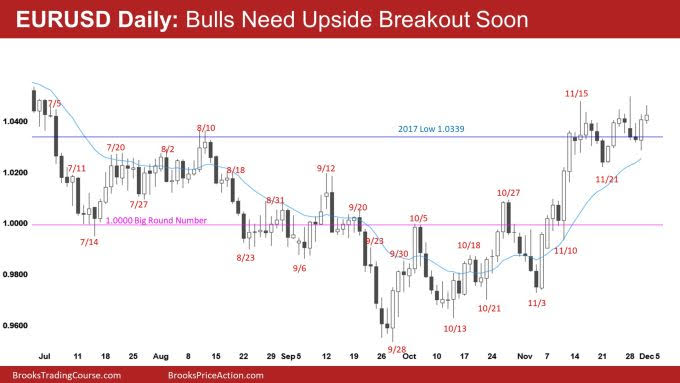 EUR/USD Daily Chart
The EUR/USD had an outside up bar yesterday, closing about the November 29 high. This is good for the bulls. However, the bulls need follow-through today.
Outside bars are typically trading range bars, and most of them lead to sideways price action.
The market is still Always In Long, and the bulls still have a slight advantage in probability.
While it would not take much for the bears to get in control, the bulls have done an excellent job demonstrating strength with bull bars closing above their midpoints.
At the moment, the odds are that the bulls will get their measured move up of the November 10 and 11 bull breakout based on the bodies of the breakout bars.
Bears need to continue developing more selling pressure to regain control. They can do this by making the market sideways or creating big bear trend bars close near their lows.
Bears have a problem because the November 10 and 11 breakout bars closed above the past 60 bars.
Trading analysis offered by
Flex EA
.
Source